Cupcakes and scrapbooking – seems like an amazing combo right? Correct! If I've intrigued you at this point continue reading!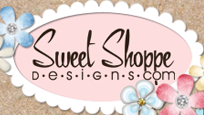 Lately I've been falling behind looking at new layout designs in my RSS feeds so I chose to just do a folder a day to catch up. Today I came across Sweet Shop Designs, an online resources for digital scrapbooking. Not only is it a resource but you can purchase their work for your own  scrapbooking needs. The reason I was first drawn to their page, and for good reason, was their creative layout of sweet treats & cupcakes. Clicking around on their site more I found several layouts I'd be interested in replicating with paper and my own embellishments.
So, if you are interested in purchasing some products, looking into their community forum, or looking at some examples of work others have done in their gallery, take some time and check out their site.
The following example was one of my favorites, found in the gallery. Love the colors & layout idea: